Halloween is upon us and it's the perfect time to conjure up some devilishly delicious cocktails that will send chills down your spine. If you're looking to elevate your Halloween party or simply enjoy a haunted night in, we have just the ingredient to make your concoctions both eerie and extraordinary: Aldez Mezcal. With its smoky and complex flavors, Aldez Mezcal provides the ideal base for crafting Halloween-inspired cocktails that will have your guests howling with delight. Here are three bewitching Aldez Mezcal cocktail recipes to make your Halloween celebrations unforgettable. 
Smoky Pumpkin Spice Margarita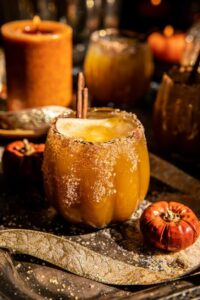 Ingredients
2 oz Aldez Mezcal
1 oz pumpkin puree
1 oz fresh lime juice
1/2 oz agave nectar 
1/4 tsp pumpkin pie spice
Ice
Cinnamon stick for garnish 
Instructions
In a shaker, combine Aldez Mezcal, pumpkin puree, fresh lime juice, agave nectar, and pumpkin pie spice. Fill the shaker with ice and shake vigorously until well-chilled. Double-strain the mixture into a chilled rocks glass filled with ice. Garnish with a cinnamon stick.
Witches' Brew Mezcal Punch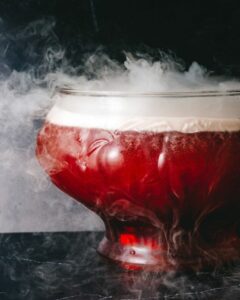 Ingredients
6 oz Aldez Mezcal
3 oz blackberry liqueur
2 oz orange liqueur 
4 oz blood orange juice 
2 oz lime juice
1 oz simple syrup 
Blackberries and orange slices for garnish 
Dry ice (for a spooky mist, optional) 
Instructions
In a punch bowl, combine Aldez Mezcal, blackberry liqueur, orange liqueur, blood orange juice, lime juice, and simple syrup. Stir well to ensure all ingredients are mixed. Add a few blackberries and orange slices to the punch for a burst of flavor and visual appeal. For a truly eerie effect, add a small chunk of dry ice to the punch bowl just before serving. Caution: Handle dry ice with care and do not ingest. 
Haunted Harvest Mule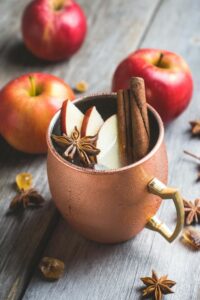 Ingredients
2 oz Aldez Mezcal
1 oz apple cider 
1/2 oz fresh lime juice 
Ginger beer 
Apple slices and cinnamon sticks for garnish 
Instructions
Fill a copper mule mug with ice. Pour in Aldez Mezcal, apple cider, and fresh lime juice. Stir gently to combine the ingredients. Top off the mug with ginger beer, leaving some room at the top. Garnish with apple slices and a cinnamon stick for a touch of fall flavor. 
This Halloween, transform your cocktail game with the enchanting allure of Aldez Mezcal. Whether you opt for the smoky and spiced Pumpkin Spice Margarita, the eerie and colorful Witches' Brew Mezcal Punch, or the crisp and autumnal Haunted Harvest Mule, your guests are in for a spine-tingling treat.